Bribery Act Elearning Updated
23rd January 2013
An invaluable tool for minimising risk updated for 2013
Our Bribery Act e-learning training course emerged from close collaboration with international legal practice SNR Denton.
SNR Denton Partner, Richard Nicole said: We were delighted to develop this comprehensive Bribery Act e-learning course with Marshall ACM. It's a useful resource for businesses of any size wishing to understand their obligations under the Act and provides clear and practical guidance for employees to ensure they have sufficient knowledge in this complex area.
We were particularly impressed that training can be tailored to focus on the areas of key importance to any business.
It's user-friendly and benefits from real-life scenarios, and learners can test their understanding at the end of the course. We would not hesitate to recommend this training to any of our clients seeking an overview of the Act.'
Fresh features for 2013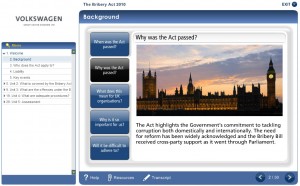 This Bribery Act course has been updated with a new, refreshed look and:
Interactive content for a higher level of user engagement
Up-to-date information on anti-bribery issues
Comprehensive content that' s not heavy on statutory duty so is suitable for a wide range of users
Real-life scenarios showing how the law applies to different situations and users
Interactive exercises throughout the course to enhance the learning process
An end-of-module test to allow users to check they' ve understood the content and concepts.
Your learning outcomes
Our Bribery Act e-learning training course covers essential information on the Bribery Act 2010, and its implications in both the public and private sphere. Under the Act the following offences have been created:
Active bribery
Passive bribery
Bribery of foreign public officials
Facilitation payments
Bribery prevention failure
We've designed the course to ensure staff clearly understand what is, and is not, covered in the Act. It also offers practical, easy-to-follow guidance on keeping your organisation within the parameters of the law.
Bribery prevention is a key factor in any business, and this course will prove an invaluable tool to ensure risks are kept to a minimum.
Course duration: 30 minutes (Users have the option to bookmark progress and complete the course in chunks)
Always up-to-date
Buy this e-learning course and you'll get all the updates we make, so you' ll always be up-to-date with current legislation.
Learning by design
This interactive course has rich graphics and audio-visual content and a blend of question-types to encourage users to apply concepts to their daily work routine.
An end-of-course test assesses staff on the level of knowledge they've retained. Pass rates can be set as required.
Easy to implement & customise
This e-learning course comes with Marshall ACM' s LMS enabling you to manage all your e-learning in one place and track completed training.
Our in-house developers can quickly & effectively adapt this course to your sector and organisation. You could also add your own graphics, photos & video and amend content to include your policies, procedures and key areas.